About Conference
Biosimilars 2018 focuses upon "Market Dynamics of Biosimilars: A Result of Payers and Prescriber Perspectives". This Biosimilars networking meet focuses on the trends which the biosimilar markets is heading on since its launch till the present date as a perspective of the payers and physisicians. It takes into its fold the critical developmental procedures, analyses, regulatory factors and also pharmacovigilance including post marketing surveillance and clinical studies. Innovation and compliance to regulatory guidelines are the most critical aspects towards biosimilars and follow on biologics development and successful launching to the market. Moreover, with the fast changing global scenario and complexities of Brexit, the biologics landscape is potent to experience an appreciable effect on the present pharma market. The market leaders are already running into a price competition with smaller players who are penetrating the market. Thus it is important to understand the current market space and the involved market complexities through a quality networking between the KOL from around the globe.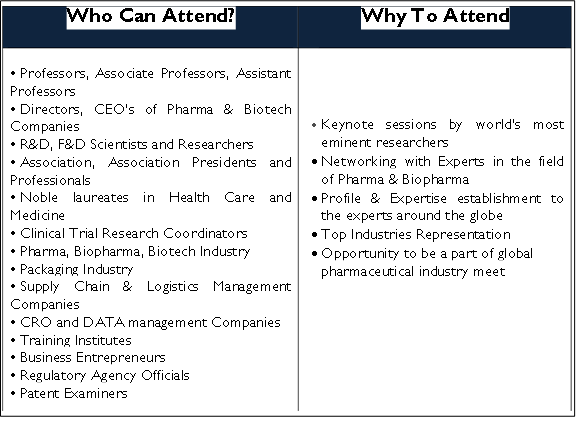 Biosimilars 2018 aims at providing quality knowledge exchange sessions and ultimate networking benefits to all its attendees.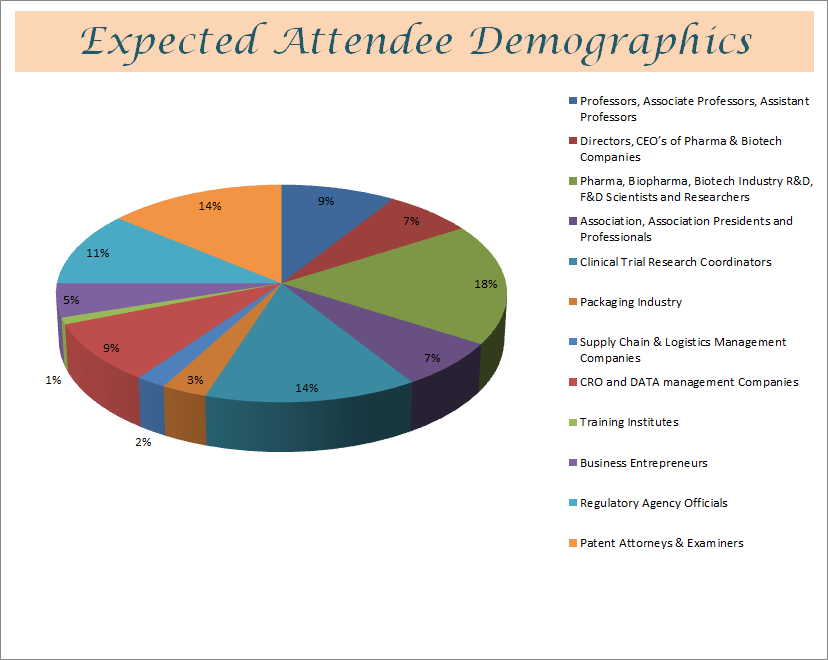 Market Analysis
2017 is potentially a notable year for big roll-out of biosimilars in U.S. All the same the EU, is expected to have 2017 as its best biosimilar year. Sanford Bernstein's Ronny Gal predicted that 2017 would be "watershed year for Biosimilars". In the last quarter of 2016 Merck's Remicade experienced a loss of 26% owing to competition from Celltrion. Forecasts say Remsima potents to take over 50% of the European market by the end of 2017. In regards to Amgen's Enbrel, Bernstein analysts predict that this biosimilar will snare a third of the market. In US Pfizer launched Inflectra at a 15% discount, during late November. Market analysts predict that Inflectra will record a slower market penetration during early 2017 and witness an acceleration proximal to the last quarter of the year. The U.S. also faces pending legal decisions and a new presidential administration, which could slow uptake.
A forecast from Quintiles IMS predicts total spending on medicines will reach $1.5 trillion by 2021. This will be a 33% increase from the total spent in 2016. Overall, however, this growth, which will occur at a 4% to 7% CAGR, will be less than the 9% growth seen between 2014 and 2015. The U.S. in particular will see 6% to 9% growth, down from 12 % in 2015. Patent expiries and the entrance of biosimilars will play a key role in the decline of spending. The industry however is already struggling to help physicians understand the concept of extrapolation. Lowering the biosimilar price for the indications only tested in human trials would continue to emphasize the importance of clinical trials rather than analytics and totality of evidence. In the case of biosimilars versus originator medications, drug coupons offered by the manufacturer of Enbrel, for example, actually make it less expensive for the patient to purchase the originator than the biosimilar, assuming a lower-copay biosimilar tier. That is, unless Sandoz, the maker of the approved etanercept biosimilar, matches Amgen's couponing program. In that case, there would be incentive or disincentive for either product, from the patient's perspective.
Both AZ and GSK are manifesting their intent to remain in the U.K. However, the loss of a minister, George Freeman, hits at a bad time for the nation. In the U.K., life sciences advocacy will be key to the emerging biosimilars market. The BGMA and British Biosimilars Association are key bodies to help advise and lead the charge on Biosimilars in UK post Brexit. But having an advocate within the government would've certainly helped keep the biosimilars mission, as well as the sustainability of the U.K. life sciences, at the forefront.
Sessions/Tracks
Track1: Potential Challenges in Developing Biosimilars

The development of biologics calls for overcoming many challenges. With initial steps of concepts of biologics, their considerations, essentials for early clinical developments it is very much needed that proper scientific and strategic approaches are taken for the successful development of follow-on-biologics. Moreover, the need for overcoming the challenges continues in the late clinical steps, drug safety factors and labelling requirements. Also it is much required now to develop a drug product in accordance to quality by design (QbD). This biosimilars conference will look at the facets of current challenges in biosimilar development. This biosimilar conference will focus on multiple aspects of biosimilar product development to successfully deliver safe, potential and efficacious biologic products to the market.
Track 2: Biosimilars Analytical Strategies
Analysis of biosimilars and biologics forms to be one of the most important aspect towards the biologics and biosimilar development process. Biosimilars analytical methods for process development and validation as well as use of production technologies such as disposables and supply chain logistics can help companies establish facility flexibility. This biosimilars global event also includes Bioanalytical methods, Formulation, Bioassay for comparability and potency testing, GMP protein analysis, LC/MS analysis for discovery, preclinical, and clinical programs.
Track 3: Biosimilars Research Pipeline
Biosimilars is a biologic medical product which is copy of an original product that is manufactured by a different company. Biosimilars are officially approved "innovative" versions of original products, and can be manufactured when the original product's patent expires. Reference to the innovator product is an integral component of the approval. This session also finds place for all the biosimilar exhibitiors associated with the field of biosimilar and biologics. Biosimilar iinovative products are on the rise. The number of new drugs seeking approvals are growing at a compounded rate of around 5% half early. Almost 1.5 times the number of biomilars are expected to be in the market in 2016 compared to in the last 5 years
Track 4: Emerging Biosimilars in Therapeutics
The explorations in the field of biologics have created a new avenue for the clinicians towards better disease management. The emerging biologics have already manifested fruitful outcomes in treatment of ailments like those of psoriasis, rheumatic arthritis, certain cancers, inflammatory bowel disease(IBD) etc .Emerging Biosimilar insulins are likely to enter the insulin landscape as patents for major branded insulin products start to expire in the next few years. The main theme of this track is to have sound knowledge in the emerging biosimilars like Filgrastim, Pegfilgrastim, Recombinant blood products, therapeutic proteins, vaccines, Biosimilar anti-bodies, Growth hormones, Biosimilar peptides, therapeutic proteins and other biosimilar developments and their impacts.
Track 5: Clinical Development Of Biosimilars
This track includes Clinical trials on major diseases Risk management, and quality affairs, Case studies, and clinical models, Transgenic animals, Targeted cell line development, Clinical biosimilar tracks.docx PK/PD studies, Toxicological studies and Aspects of genotoxicity tests.Clinical trials are designed in stages I-IV so as to receive a clear picture of the drug candidate in respect to its pharmacokinetics and pharmacodynamics parameters. Biologics also represent over 40 percent of the drugs in each of the preclinical, Phase I, Phase II, and Phase III trial stages.
Track 6: Legal Issues and BPCI Act
The legal issues pertaining to the the follow-on-biologics and biosimilars are one of the most aspects that requires an open discussion. Before the actual advent of biosimilars to the market legal issues have risen in numbers in their developmental stages. Renowned organizations have filed cases against each other two claim their rights and for other legal allegations related to the products. This track is dedicated to discussion of all such cases which has been argued in the court of law. By 2002, the FDA had approved 36 new biologics, followed by 37 more in 2003, another 40 in 2004 and 39 more in 2005. By 2006, the leading category of biologic treatment, the red blood cell enhancer recombinant erythropoietin (EPO), generated $14 billion in sales revenues, or 40 percent more than the best-selling traditional pharmaceutical, Lipitor. More than 300 therapeutic antibodies currently are in clinical development and trials, compared to just 13 that already are widely available due to legal issues.
Track 7: Regulatory Approach for Biosimilars
This networking meet will provide an excellent opportunity to the scientists, partners and pharma leaders from Biopharmaceutical and Biotechnology industries to discuss and learn about the regulatory competencies required for Biosimilars and Biologics.This track includes: Licensing of biosimilars, Biosimilars regulation, Biosimilar Patents , BLA filing for biosimilars, Regulatory prospects of BRIC countries, a paradigm of traditional generics to biosimilars, Biowaiver approval for Biosimilars. Approximately 20% of the biologics and biosimilars in the worldwide R&D pipelines are facing challenges to fall in line with the regulatory guidelines.
Track 8: Intellectual Property Rights
The safeguarding of product trade secret, its formulations and other process parameters by law is usually covered by IPR. It includes those as patents, copyrights, industrial design rights, trademarks etc. IPR is of prime importance in the field of biologics and biosimilars. Most scientist and industries tend to retain their monopoly business by exercising the IPR. The very name Biosimilars calls for the occurrence of Intellectual Property rights laws and by-laws. Hence this session is of utmost interest to the attorneys and law personnel.Currently, the US provides 12 years of exclusivity for new biological products under the Biologics Price Competition and Innovation Act (BPCIA).The provision providing 12 years exclusivity was buried inside the 20,000-page healthcare law. Eight years of exclusivity would keep biologic medicines out of the hands of many who need them. Prices frequently exceed $100,000.
Track 9: Globalization of Biosimilars
This track discuses about the generic drugs impact on global biosimilar market , Cost and risk management, Adopting innovative mechanisms such as risk-sharing arrangement, European market for biosimilars. The global market scenario with the launch of first biosimilar in the market forecasts some radical changes. This track will look upon such key concerns which are witnessed by the global pharma market and that are coming up with the subsequent launch of the other biosimilars and biologics.Despite these emerging facilities, biotherapeutic developers are most comfortable off-shoring to established markets—the US and Europe. In terms of the outsourcing destinations that are most-cited as at least a possibility for outsourcing during the next five years, the leading markets are: USA (78% are at least considering) Germany (76%) Singapore (74%) United Kingdom (73%).
Track 10: Biosimilar Companies and Market Analysis
The U.S. takes the lion's share (49 percent) of the global biologics market value and generates half of the sales value growth as well. The EU accounts for 22 percent of the market's sales value and 14 percent of its value growth. In contrast, emerging markets represent just a sliver of the sales pie, with 7.5 percent share. Thus, biologics market growth is still largely driven by mature markets. The global biologics market had reached $170 billion in sales value in 2012, accounting for 18 percent of the overall market. The five top 10 global products in terms of sales volume are biologics, wherein 2008 it was just two. The market in the APAC region for biosimilars reached $605 million in 2010 and $683 million in 2011. The market is expected to reach $1.1 billion by 2016, a CAGR of 10.3%. The market in the United States for biosimilars reached $507 million in 2010 and $1.1 billion in 2011. The market is expected to reach $1.3 billion by 2016, a CAGR of 4.1%.
Track 11: Challenges in Biosimilars Pharmacovigilance
This session of the Biosimilars 2016 will look into the future and FDA initiatives that have already been announced to include enhanced tracking and follow-up of post marketing surveillance issues, planned improvements in AERS, and pilots of new post market drug-monitoring strategies and ADR related issues.Biosimilar guidelines for pharmacovigilance practice and pharmacoepidemiology are the points that shall be laid emphasis in this session. U.S. average annual spending growth from 2002 to 2007 was 16% for biologics, compared with 3.7% for drugs. In same proportion pharmacovigilance for biosimilars has been comparitively more than other pharmaceutical products.
Track 12: Brexit Effect on Biosimilars
The Brexit effect on Biosimilars tends to be negative. Not only would it be a major setback towards approval and launch of biosimilars to the market but also it would be hindrance towards the cost cutting approach taken up by NHS.With Britain being among principal clinical trial centers is owned to see a decrease in the willingness of the manufacturers and researchers to carry out any further trials in Britain. Also Brexit will cause the principal motive of Bristish Biosimilars Association(BBA) to fall back- which aimed at increasing the use of biosimilars.