About Conference
Allied Academic Publication is an amalgamation of several esteemed academic and scientific associations known for promoting scientific temperament. Established in the year 1997, Andrew John Publishing Group is a specialized Medical publisher that operates in collaboration with the association and societies. This publishing house has been built on the base of esteemed academic and research institutions including The College of Audiologists and Speech Language Pathologists of Ontario(CASLPO), The Association for Public Safety Communications Officials of Canada (APCO), The Canadian Vascular Access Association (CVAA), The Canadian Society of Internal Medicine (CSIM), The Canadian Hard of Hearing Association (CHHA), Sonography Canada, Canadian Association of Pathologists (CAP-ACP) and The Canadian Association of Neurophysiologic Monitoring (CANM).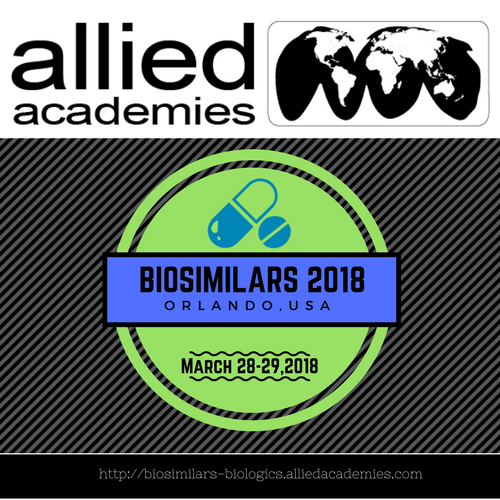 Biosimilars 2018 focuses upon "Market Dynamics of Biosimilars: A Result of Payers and Prescriber Perspectives". This Biosimilars networking meet focuses on the trends which the biosimilar markets is heading on since its launch till the present date as a perspective of the payers and physisicians. It takes into its fold the critical developmental procedures, analyses, regulatory factors and also pharmacovigilance including post marketing surveillance and clinical studies. Innovation and compliance to regulatory guidelines are the most critical aspects towards biosimilars and follow on biologics development and successful launching to the market. Moreover, with the fast changing global scenario and complexities of Brexit, the biologics landscape is potent to experience an appreciable effect on the present pharma market. The market leaders are already running into a price competition with smaller players who are penetrating the market. Thus it is important to understand the current market space and the involved market complexities through a quality networking between the KOL from around the globe.
Biosimilars 2018 aims at providing quality knowledge exchange sessions and ultimate networking benefits to all its attendees.
Who Can Attend?

• Professors, Associate Professors, Assistant Professors
• Directors, CEO's of Pharma & Biotech Companies
• R&D, F&D Scientists and Researchers
• Association, Association Presidents and Professionals
• Noble laureates in Health Care and Medicine
• Clinical Trial Research Coordinators

• Pharma, Biopharma, Biotech Industry
• Packaging Industry
• Supply Chain & Logistics Management Companies
• CRO and DATA management Companies
• Training Institutes
• Business Entrepreneurs
• Regulatory Agency Officials
• Patent Examiners